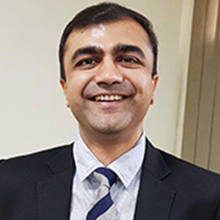 Shri Abhishek Prakash (IAS)
CEO
Invest UP
Dear Investors,
Thank you for considering Uttar Pradesh as your business destination. Invest UP is the official investment promotion and facilitation agency responsible for attracting investments and supporting investors across their investment lifecycle in the State. Our mission is to encourage and support new investments into the State, ensure a business-friendly ecosystem and in turn promote economic growth and enhance quality of life of the people of the state.
We offer a dynamic structure ready to guide you throughout the decision–making process by providing professional and timely service. In order to meet potential investor's needs we provide general and industry related information, facilitate resolution of problems of prospective and existing entrepreneurs by taking up their issues at the appropriate level in the Government of Uttar Pradesh and other public bodies, institutions and organizations. We function with transparency and swift responsiveness and serve our clients with a friendly and courteous approach.
Lying along the fertile plains of Ganges, Uttar Pradesh has plethora of investment opportunities. India's fourth largest state, UP is home to a one of the largest consumer markets in the country with a population of 240 million. It has a substantial availability of land parcel, workforce and natural resources complemented by a business-friendly regulatory regime. Besides developing world class infrastructure and enabling policies, the State is focusing on skill development, innovations, building progressive institutions and good governance.
And as the State moves ahead with its empowering policies, transforming business climate and proactive governance, Invest UP remains engaged in working with you and supporting you translate your business interests in UP into reality, today and into the future.